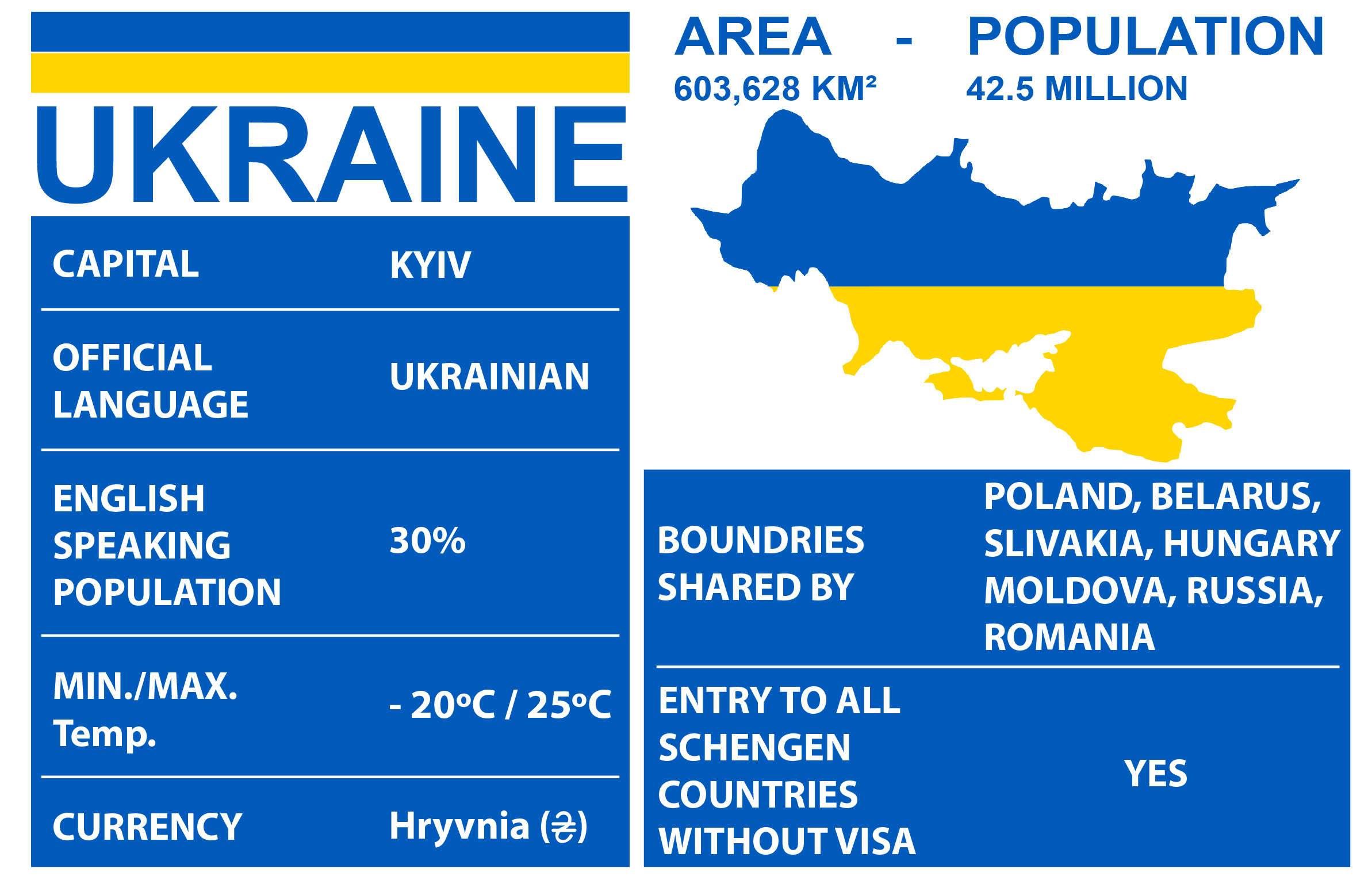 Ukraine gained independence from the former Soviet Union in 1991 and has a semi-parliamentary semi-presidential form of government. Its capital is Kyiv and its currency, the Ukrainian Hryvnia (₴), is three times stronger than the Indian rupee. In Ukraine students can pitch on an MBBS degree in various fields like General Medicine, Pediatrics, Pharmacy, Dentistry, Surgery etc. Some unrivalled universities like OO Bogomolets National Medical University, based in the capital city Kyiv and founded in 1841, provide the degree charging a tuition fee starting from US$4300/annum only. Vinnitsa National Medical University provides the degree at a tuition fee of merely US$4000/annum.
Public universities in Ukraine are known for their reliability, high ranking and security provided by government. Phoenix Education wants the students to make an informed choice while opting for a university to further their education.
Kyiv – Kyiv or Kiev is the capital of Ukraine. It is located on the river Dnieper and lies in the north central part of the country. It is one of the industrial, educational, cultural & scientific center of Eastern Europe. It has a population of 3 million.
Lviv – Lviv is one of the largest city in western Ukraine. It is European looking city with great architecture. The population of the city is 806,000.
Kharkiv – Kharkiv is the city in North East Ukraine. Kharkiv is Ukrainian's leading power engineering, agricultural machinery, transport & tool manufacturing center. It has a population of 1,575,000.
Odessa – Odessa is located in Southern Ukraine and is a beautiful port city on the Black Sea. It is also known as a large seaport. The population of Odessa is a little more than 1 million.
Chernivtsi – Chernivtsi is city in Western Ukraine situated on upper course of River Prut. Chernivtsi National University is one of the most magnificent Universities in Ukraine, it is also the UNESCO-listed World Heritage. The population of the city is 295,366.
Poltava – Poltava is a city in Central Ukraine. It is located between Kharkiv and Kyiv. Poltava lies along the River Vorskla. The population is just over 300,000.
Pocket friendly – the tuition fee of pursuing this degree ranges from US$3850/annum to US$4800/annum. Your monthly living expenditure may settle around US$120/month.
Extracurricular activities – you will get a chance to attend seminars and conferences, work on scientific models and take part in cultural exchange programs once you enroll yourself in a Ukrainian university.
Fields of specialization – a doctoral degree in General medicine, Pediatrics, Pharmacy, Dentistry, Surgery, etc. from Ukraine is quality-rich, distinguished and renowned.
No IELTS/TOEFL required – You do not require going through training and tests to prove your proficiency in the English language. This saves your time to a great extent.
No entrance exam required – To get admission in MBBS course, there is no need to undergo the tedious task of preparing for the entrance exam and appearing for it if you possess the requisite documents and fulfill the eligibility criteria.
An easy gateway to Europe – Not certain of your entry in Europe? Well, MBBS in Ukraine would aid you in that. You become eligible to work in the European Union without an exam. Moreover, employment opportunities for doctors are vast in Europe.
English is the medium of instruction – You don't get to face any language barriers in Ukraine because teachers and the citizens converse in the English language.
Degree recognized by MCI, UNESCO and WHO – Once you have completed your MBBS degree from Ukraine, you can kick start your career in any part of the world due to the simple fact that your degree will be recognized by these organizations.
MCI APPROVED MEDICAL UNIVERSITIES IN UKRAINE
FEES OF MEDICAL UNIVERSITIES IN UKRAINE
A student must have:
1. Qualified NEET exam.
2. Mental and physical fitness
3. An adequate source of funding their education
4. Attained the age of 17 years on or before 31st December of the year of admission to the course .
5. Passed in the subjects of Biology, Physics, Chemistry & English individually.
6. An eligibility certificate from MCI (download the form here: https://phoenixchd.com/wp-content/uploads/MCI.pdf )
7. Obtained a consolidated score of at least 50% in Physics, Chemistry, and Biology in standard XI and XII. However, the requirement is only 40% marks in case of students belonging to reserved category.
1. A valid passport
2. Birth certificate
3. Completed application form
4. School / college leaving certificate.
5. Medical Certificate and HIV Certificate.
6. Parents' Bank statement (at least of past 6 months).
7. An invitation letter issued by the Ministry of Education, Ukraine.
8. 12 passport size color photographs(background should be white).
9. Mark sheet and passing certificate of class 10th from a recognized board.
10. Gap certificate for students with gap after class 12th.
11. Mark sheet and passing certificate of class 11th and 12th from a recognized board.
12. Affidavit certificate confirming that parents shall sponsor the student's education
13. NEET Eligibility Certificate
1. OO Bogomolets National Medical University
2. Poltava State Medical University
3. Vinnitsa National Medical University
4. Taras Shevchenko National University of Kyiv
5. Sumy State Medical University
6. Lviv National Medical University
7. Ternopil State Medical University
8. Ivano Frankivsk National Medical University
To explore the plethora of opportunities in Ukraine, fix an appointment with Phoenix Education now!