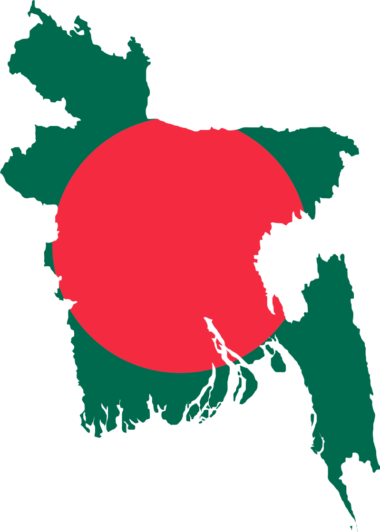 Have you cleared NEET exam but medical colleges in India seem un-affordable? Or are the seats in all the medical institutes in India filled but you still want to study medicine like taught in India? You don't need to worry. Bangladesh is the country for you because it provides high quality of education at a low cost. The curriculum, books, hours of study, teaching style etc. match that of India but with an appealing factor that no donations have to be paid and the fee is quite affordable for getting an MCI approved degree. What's more? The government medical institutions in Bangladesh have free seats under SAARC quota for those students who have scored more than 95% in Biology in class XII.
The People's Republic of Bangladesh is a unitary parliamentary republic in South Asia. It shares its borders with India and Myanmar.Dhaka is its capital and largest city. Other major cities are Chittagong, Khulna and Tongi. Its currency is Taka (৳)and official language is Bengali. The economy of Bangladesh is growing rapidly every year. Bangladesh is a home to three UNESCO World Heritage Sites, which are, the Mosque City of Bagerhat, Ruins of the Buddhist Vihara at Paharpur and the Sunderbans. MBBS in Bangladesh has always attracted a huge number of international students, especially from Asia.
The MBBS course is of five years duration. The good news for international students is that there are seats reserved (75 seats in Public institutions and 20-25% seats in private institutions) in medical colleges in Bangladesh for international students.Students from India have an added advantage due to the fact that both India and Bangladesh a remembers of SAARC. Not to forget, Indian students completing their MBBS degree from Bangladesh have maximum success rate in Foreign Medical Graduates Examination (FMGE). All the Indian students who have a foreign medical degree have to pass through this test conducted by MCI in order to practice medicine in India. The test is conducted twice a year in the months of June and December.
Public universities in Bangladesh are quite safe, reliable and secure due to government intervention. Phoenix Education advises the students to prefer public universities over private ones to have an enriched experience.
Scholarships – Students above the age of 18 years who have scored more than 60% marks in the qualifying
examination can apply for scholarships under Bangladesh Scholarship Scheme or India Scholarship Scheme.
Hostel facility – Bangladeshi universities and colleges provide hostel facilities to its students. There are separate hostels for boys and girls which are quite safe to live in. There is separate mess for vegetarian and non-vegetarian food.
Low living cost – Your monthly expenditure including food and accommodation in Bangladesh would be around INR 10,000. Thus cost of living is very low in this country.
Medium of instruction – Courses in a many of universities in Bangladesh are taught in English language. In fact, you may find Indian faculty in Bangladeshi medical colleges.
Easy admission process – Studying and taking admission in Bangladesh is easy and hassle-free. For member countries of SAARC, it is even more convenient.
No entrance test required – If you fulfill the below mentioned eligibility criterion, there's nothing more you need. You do not have to go through the tedious process of going through an entrance test.
Emphasis on practical knowledge – Many Indian students are able to clear FMGE conducted by MCI indicates that quality of education in Bangladesh is quite good. The focus is kept on imparting practical knowledge by exposure to patients.
Socio-cultural similarity with India – In Bangladesh, you won't feel much homesick because you won't be much away from your home. Also, the climate, living conditions, education system etc. are very much similar to that in India.
Recognition by MCI, UNESCO and WHO – A medical degree from Bangladesh is recognized by Medical Council of India and World Health Organization. Bangladesh is a member of SAARC, BIMSTEC, the Commonwealth of Nations, the Developing 8 Countries, the OIC, the Indian-Ocean Rim Association, the Non Aligned Movement, the Group of 77 and the World Trade Organization.
1. Mental and physical fitness
2. An adequate source of funding education
3. Attained the age of 17 years on or before 31st December of the year of admission to the course.
1. Birth certificate
2. A valid passport
3. School leaving certificate
4. 6 passport size colour photographs(background should be white).
5. Mark sheet and passing certificate of class 10th from a recognized board.
6. Mark sheet and passing certificate of class 11th and 12th from a recognized board.
1. Dhaka Medical College
2. Khulna Medical College
3. Comilla Medical College
4. Satkhira Medical College
5. Rangpur Medical College
6. Faridpur Medical College
7. Rajshahi Medical College
8. Patuakhali Medical College
9. Chittagong Medical College
10. Mymensingh Medical College
11. MAG Osmani Medical College
12. Sir Salimullah Medical College
13. Sher e Bangla Medical College
14. Colonel Malek Medical College
15. M Abdur Rahim Medical College
16. Abdul Malek Ukil Medical College
17. Shaheed Suhrawardy Medical College
18. Shahid Ziaur Rahman Medical College
To explore the plethora of opportunities in Bangladesh, fix an appointment with Phoenix now!